Let's Celebrate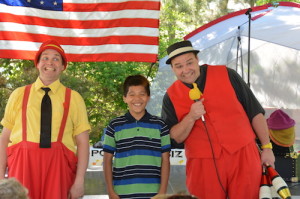 Summer is upon us and for Miller & Mike it always starts with Celebrate De Pere at Voyager Park. We're doing shows on Saturday and Sunday before Memorial Day. On Saturday shows or at 2:30 & 6pm, on Sunday the shows are 1:30 & 5:30.  Here's a great photo from last year.
If you can't make it don't worry there will be lots of other shows all summer long, all across the state. I will update the calendar soon so keep an eye on it.
Whatever you do this Memorial Day make sure you take some time to remember our fallen heroes who gave so much for our freedom.