Donkey Basketball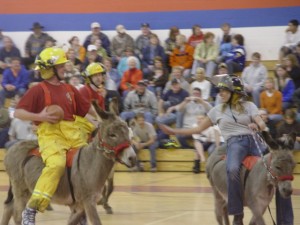 Those of you who are still upset by the poor performance of your bracket during this year's March madness have no fear, it's not over yet. While the damage to your bracket might feel like a broken leg there is one place where you can forget your worries and again enjoy the sport with the orange ball.
The brave fire fighters of Little Chute, Kimberly, and Combined Locks might not be masters of the game but they will take it to a new level with the help of their four-legged teammates. You've seen the game before but never like this. It's all for the benefit of the FD, the flag fund and the old glory honor flight.
Come early because I'll be there with a pre-show, bringing laughs and pumping up the crowd. You'd better believe I'm going to stick around to see the winning coach get a barrel of hay dumped on him.
Watch a bunch of grown fire fighters shot from their, donkeys. The game is Sunday, April 14th at 2:00pm at the Little Chute High School. Tickets are only $10 and are available at, East Wisconsin Savings Bank, Seth's Coffee Shop, Vanderloop Shoes, and the Little Chute, Kimberly and Combined Locks fire departments.
Miller